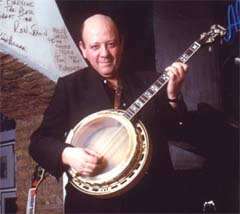 Lino Patruno has been in show-biz for many years. His experience ranges from concert jazz performances, studio recordings, TV and cabaret actor, theatre and cinema, to bandleader, film music composer,jazz festival organizer and television presenter.
Lino Patruno began his career in the first of the jazz bands active in Milan in the 50's.
Among the bands he led,are the notable "Riverside Jazz Band" in the 50's and 60's and the "Milan College Jazz Society" in the 70's.
In 1964 together with Nanni Svampa, Roberto Brivio and Gianni Magni, he founded "I Gufi" (The Owls), the first exemple of Italian Cabaret inspired by that of the French.
From the Milan Cabaret scene the four actors moved to theatre, taking their show around Italy until 1969, the year in which the group broke up.
Following this in the early 70's, Lino Patruno with Nanni Svampa continued his theatrical activity with Franca Mazzola, appearing in some TV Shows of notable success: "La Mia Morosa Cara", "Addio Tabarin", Un Giorno Dopo l'Altro", "Una Bella Domenica Di Settembre…".
Patruno in the meantime returned to his jazz activities which he had laid aside due to his many activities with the "Gufi", and he made a series of records and TV programs with some of the great Jazz performers of the day (Albert Nicholas, Joe Venuti, Bill Coleman, Wingy Manone, Bud Freeman, Jimmy McPartland, Dick Cary, Teddy Wilson, Eddie Miller, Billy Butterfield, Bob Wilber, Peanuts Hucko, Bob Haggart, Spiegle Willcox, Pee Wee Erwin, Barney Bigard, Ralph Sutton, Dick Wellstood, Earle Warren, Jimmy Woode, Tony Scott, Kenny Davern, Wild Bill Davison, Bucky Pizzarelli…).
His greatest success came about, however, in his participation in the TV show "Portobello".
With Pupi Avati, he wrote the screenplay of the film "Bix" which represented Italy in the 1991 Cannes Festival, producing the soundtrack arranged by Bob Wilber.
In the 1990/91 season he conducted the TV show "A Tutto Jazz" for the "Cinquestelle" Network, in 1993 "L'Occhio sulla Musica" for RAI 3.
Among the International Festivals in which he has taken part, we remember that of Sanremo (Italy) in 1963, that of Nice (France) in 1976 and 1977, Breda (Holland) in 1978, in Switzerland (Lugano, Lucern, Bern), in Italy (Pompei, Palermo), Dusseldorf (Germany), all in the 80's, and in USA (Davenport-Iowa and Libertyville-Illinois) in the 90's.
Lino Patruno lives in Rome, where he is also involved in cinema. Among the films in which he has taken part, we remember "Amarcord" directed by Fellini, and " The Last Days of Mussolini" directed by Carlo Lizzani with Rod Steiger and Henry Fonda, and among the sound-tracks he has composed: "Guerra di Spie" directed by Duccio Tessari with Jean Rochefort and Marisa Berenson, "Crimson Dawn" directed by Marcello Aliprandi with Franco Nero, of which he was also Producer.
Among the most recent theatre sound-tracks, we like to point out "Ti amo Maria" with Carlo Delle Piane (now also a film), "Last of the Red Hot Lovers" by Neil Simon with Maurizio Micheli, "Crimes of the Heart" directed by Nanni Loy. We remember him moreover as theatre actor in "Pellegrin che vai a Roma" by Michele L. Straniero, "Capitan Fracassa" by Thèophile Gautier with Giancarlo Zanetti and "La signora in Blues" directed by Bruno Maccallini.
And not least, he is known for his work with the RAI Television, having composed the music for all silent short films by Charlie Chaplin (60 shorts).
We also note that Lino Patruno has been a member of the jury of David di Donatello (the Italian Movie Oscar), of the European Film Academy and for the Italian nomination of the Oscar in USA.
Also for many years he has occupied himself as Art Director for Jazz Festival in Italy (San Marino, Mosciano Sant'Angelo, Crotone, Etna Jazz with Romano Mussolini).
From 1985 he has directed his "European Jazz Stars", which has included amongs others Oscar Klein, Roy Williams, Roy Crimmins, Isla Eckinger, Gregor Beck and the unforgettable Henry Chaix and Peter Schilperoort (The "Dutch Swing College" leader).
In 2000 Lino Patruno wrote his autobiography: "Lino Patruno, una vita in jazz e non solo…" (Pantheon Publ.) and recorded his late Cd's in Ascona during the Jazz Festival with Ed Polcer, Bob Havens. Allan Vachè, Jim Galloway, Tom Baker, Dan Barrett, Evan Christopher, Rebecca Kilgore, Bucky Pizzarelli, Howard Alden, Frank Vignola, Marty Grosz, Al Viola, Andy Stein, Bob Wilber, Kenny Davern, Randy Sandke…
His last 3 CD's was printed in USA on Jazzology label.
In 2005 he took part in the film "Forever Blues", directed and interpreted by Franco Nero, both as a musician and actor, and as writer and performer of the soundtrack and the theme song of the film won the following awards: Nomination for the "David of Donatello", "Foreign Press Golden Globe", "Fregene for Fellini".
In May 2011 he played to represent Italy at New Orleans & Heritage Jazz Festival.